Smoldering multiple myeloma (SMM) is a plasma cell disorder with the potential to evolve to multiple myeloma. Several risk stratification models have been used to identify patients at high risk who may be eleigible for early treaetment. In an article published today in JAMA Oncology, the authors retrospectively looked at patients from 2 clinical trials. Patients were assigned a risk score [Low Risk (LR), Intermediate Risk (IR), and High Risk (HR)] based upon three risk models:
the Mayo Clinic Risk Stratification Model 2008,

the Programa para el Tratamiento de Hemopatias Malignas (PETHEMA) model,

and the newer Mayo Clinic Risk Stratification Model 2018
There was a significant difference in the rates of LR, IR, and HR among the 3 models. Identifying High Risk (HR) patients is most important in terms of patient monitoring and enrollment into clinical trials for early treatment. However, there was high level of discordance between the three models.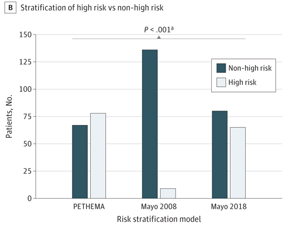 The authors concluded:
Accurate identification of patients with SMM at highest risk of developing MM remains difficult

These models are limited because they do not incorporate sensitive imaging techniques, such as positron emission tomography–integrated computed tomography

Current clinical variables used to determine risk are not reliable
Related Article: Expert Panel Discussion of Smoldering Myeloma
References:
Hill E, Dew A, Morrison C, et al. Assessment of Discordance Among Smoldering Multiple Myeloma Risk Models. JAMA Oncol. Published online November 19, 2020. doi:10.1001/jamaoncol.2020.5585