Upcoming Events
Events Search and Views Navigation
May 2021

Within a very short period of time, there has been a tremendous advance in development of cellular immunotherapies in multiple myeloma (MM). As we have observed during our event last year, a number of groups have presented their data on CAR T-cell therapy in MM. Although the studies are currently small in size, they are accruing patients very quickly, both in the United States and globally.
These developments have highlighted the need for a focused discussion about the state-of-the-art in immune and cellular therapies. With this in mind, the International Myeloma Society (IMS) is organizing the 2nd Immune Effector Cell Therapy in Multiple Myeloma Workshop. This two-day meeting will review CAR-T clinical data and promising preclinical leads, gain consensus on issues in management of toxicity, and discuss ongoing and future clinical trials. This year we are also including a session on T cell-engaging bispecific antibody-based approaches.
Find out more »
October 2021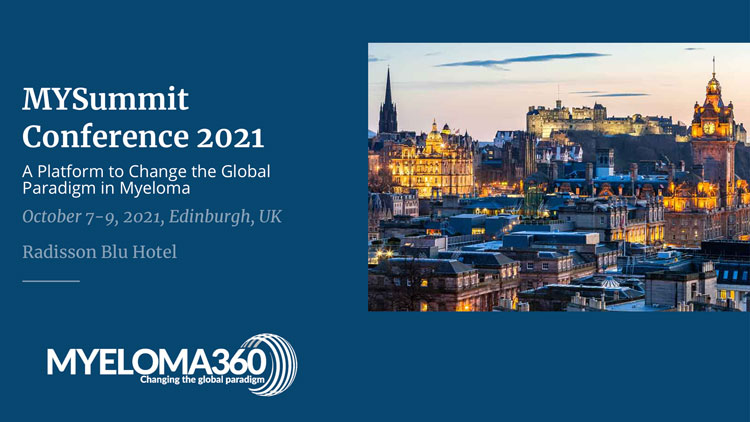 MYSummit is an independent, international, multi-disciplinary meeting, designed to be relevant to all stakeholders involved in myeloma including researchers, clinicians, patients and patient organizations, specialist nurses, HTA, payer and regulatory bodies, members of the life-sciences, biotech, medical device and pharmaceutical industries, as well as government policy-makers, investors and philanthropists.
It will be practical, pragmatic and applied in nature, and interactivity and inclusiveness will sit at its heart. Approximately 50% of participants will take part as faculty members.
The Summit will comprise a variety of formats built primarily around multi-stakeholder panels, debates, Keynotes and an interactive research prioritization session.
A team of onsite medical writers will develop a meeting white paper that will capture the key discussion points from each session and the next steps needed in order to address the obstacles and barriers standing in the way of significant progress.
The Summit will be engaging and thought-provoking, but will have an informal, festival feel to encourage interaction, collaboration and opportunities to create solutions.
Find out more »
+ Export Events